GOLF 4-3-9 Antarctica Expedition 2008
Report Day 27 -- Saturday 22 November 2008 -- Snowcraft II Training

---
Daily Reports 1 |&nbsp2 |&nbsp3 |&nbsp4 |&nbsp5 |&nbsp8 |&nbsp9 |&nbsp10 |&nbsp13 |&nbsp14 |&nbsp15 |&nbsp16 |&nbsp20 |&nbsp25 |&nbsp27 |&nbsp30 |&nbsp35 |&nbsp37 |&nbsp38 |&nbsp42
---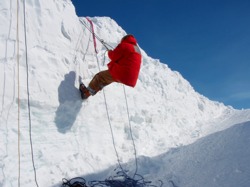 We are now ready to prepare for our work on Mt. Erebus. This includes some additional training for crevasse climbing so we can get into and out of the ice caves in which we plan to deploy our microbe traps. Our FSTP mountaineer Nick Giguere has taken our small group under his wing for our training. He will be our guide when we work on Erebus so it is good to train with him as well.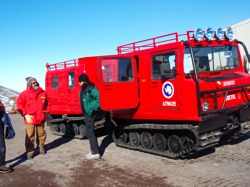 The group is Hubert and Laurie (Golf 439), Daria Zandmeneghi (Golf 081), and a photographer from the writers and artists program, Lisa Blatt (Whisky 437). We first spent several hours indoors learning the various knots we will use with our harnesses and adjusting our foot loops for ascending from the crevasses or ice caves.
We got to test out the equipment in the comfort of the building before we went out to the simulated crevasse that is out along the edge of the ice shelf. After a short trip in a Hagglund a sort of all terrain tracked vehicle used here in snow and ice) we came to the snow hill for our initial training.
First we practiced stopping a slide down the mountain with an ice axe self-arrest. It was pretty fun sliding down the slopes but the lessons we learn are serious. Next we moved over to the crevasse to practice repelling and ascending. It was lots of fun, but took a bit of work to get over the steep lip of ice at the top.
After the day was over the next step was care of the ropes. Our lives may depend on these pieces of equipment so it is important to take good care of them. Hubert has long enough arms so that making the big loops of rope for storage pretty easy. We are now ready for our next part of the adventure - our move to the small camp on Fang Glacier so we can begin to acclimate to higher elevation. We need to stay at Fang for a few days before moving again up to Lower Erebus Hut from where we will be doing most of our work.
Hubert Staudigel
(Hotel Sierra) and
Laurie Connell
(Lima Charlie a.k.a. Loco Coco) from
McMurdo Station
22 November, 2008
---
---