GOLF 4-3-9 Antarctica Expedition 2008
Report Day 35 -- Sunday 30 November 2008 -- Warming Up LEH

---
Daily Reports 1 |&nbsp2 |&nbsp3 |&nbsp4 |&nbsp5 |&nbsp8 |&nbsp9 |&nbsp10 |&nbsp13 |&nbsp14 |&nbsp15 |&nbsp16 |&nbsp20 |&nbsp25 |&nbsp27 |&nbsp30 |&nbsp35 |&nbsp37 |&nbsp38 |&nbsp42
---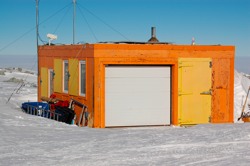 We finally made it to Lower Erebus Hut (LEH). We were the first group to use LEH this season. That means we have about a day's worth of shoveling/sweeping snow outside and inside the hut, chiseling ice away from doors, floors etc.. Once we were sure that there was no more snow on the shelving or any other place in the hut we started heating it and began melting a huge amount of snow for drinking water. This allowed us to cook our first real meal since a week before when we left for Fang Glacier Camp and we really enjoyed it.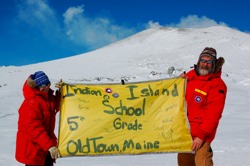 We decided not to put up tents (wonder why?) but rather sleep in the second hut, the "garage" where two snow machines had been stored for the winter. The garage was an even bigger snow shoveling job, getting the snow machines out, and sorting through assorted hardware items, most of which should have been discarded decades ago (hence the name "garage"). In the end, the garage turned into a very cozy dormitory.
We still had a bit more altitude acclimation to do, but we were pretty much ready to work. A short walk around camp over to an old Navy helicopter is a diversion. The helicopter was left behind, years ago, after it had blown over in a storm. It has become a local tourist attraction- not that there are many tourists up here.
Mary Lynn Price was able to make it up for a few hours to complete the interview with Laurie and then we all settled in for our first warm nights sleep in a while.
Finally Warm Again!
Hubert Staudigel
(Hotel Sierra) and
Laurie Connell
(Lima Charlie a.k.a. Loco Coco) from
McMurdo Station
30 November, 2008
---
---