GOLF 4-3-9 Antarctica Expedition 2008
Report -- Friday 21 November 2008 -- Resupplying McMurdo Station Using Icebreakers and Containerships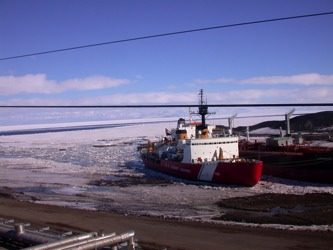 Re-supply at McMurdo is not as easy as going to the corner grocery store. Here in Antarctica much of the cargo comes by ship and the ships come in only one time per year! It is less expensive to have cargo travel by ship then by air. As the sea ice begins to diminish a Coast Guard Ice Breaker will travel down to McMurdo and break a channel in the ice as well as a "turning basin" just off of McMurdo station. The "turning basin" is an area where the large ships can make a turn into the floating ice pier. This is quite a big task and takes some time.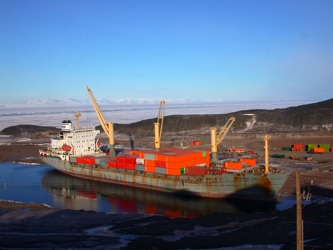 Some times more than one ice-breaker is needed. After the channel is cut, the large cargo container and fuel ships can come into the floating ice pier at McMurdo. Research vessels can come into McMurdo during this time as well. There is quite a bit of research that is done off the coast and in the Ross Sea near by so coming into "town" can be a big event. This is when parts to repair equipment are often brought onto station and large loads of new food arrive. All of the trash is removed by cargo ship so that the station can remain clean. In the past there was a garbage dump here but that has been cleaned up and all trash is shipped back by ship for disposal or recycled.
When cargo is loaded and unloaded a whole set of new rules apply to travel in McMurdo. Large trucks with containers and cranes swinging cargo can be dangerous, so travel around is limited. A whole group of people, who specialize in cargo, are brought onto the station. Unfortunately, we will have already left McMurdo before the annual re-supply extravaganza begins but we do have photos in the gallery from past seasons!
Laurie Connell
(Lima Charlie a.k.a. Loco Coco) from
McMurdo Station
21 November, 2008
---
---