Even though I worked with the Navy for a couple of years, I never got to go out on a submarine or carrier, so the FeMO2007 cruise was my first time out at sea. I've been working for Brian Glazer on deploying an in-situ electrochemistry unit at Kilo Nalu, the University of Hawaii's cabled observatory off the southern coast of Oahu. This was a great opportunity for me to see instruments function in the ocean environment.
The cruise experience really began a couple days before we were scheduled to depart. There was a lot of prep work. We had to make electrodes, weigh chemicals, test instruments, and pack. It seems like we packed pretty much the entire lab and brought it in with us.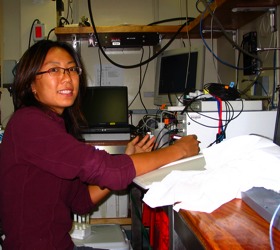 My first couple of days were spent mainly trying not to be seasick, with amounts of work interspersed in between. I had two 4-hour e-chem watches and one 4-hour data logging watch each day in the JASON control van. The hydrothermal vents, chimlets, pillows, and mats at the bottom were amazing to see. I also didn't realize the mats could exist so deep.
The most exciting part of the cruise was watching JASON pilots maneuver and pick up small objects. I had a chance at the controller and realized how difficult it really was to just move these robotic manipulator arms, yet the pilots could pick up the tinniest objects - we found and picked up a "rubber band" on one dive.
I learned a lot on this cruise, from what other people look for in the sediment to how to mount instruments so that JASON's arms wouldn't get tangled up in cables. I had a good time with the people on the cruise too. It was refreshing to see people really excited and interested in their work.
En Chieh Chen
onboard the
R/V Kilo Moana
16 October, 2007
---
---