FeMO4 Dive Cruise 2009
Report Day 01 -- Thursday 01 October 2009 -- Final Loading and Leaving Port

---
Daily Reports 1 |&nbsp2 |&nbsp3 |&nbsp4 |&nbsp5 |&nbsp6 |&nbsp7 |&nbsp8 |&nbsp9 |&nbsp10 |&nbsp11 |&nbsp12 |&nbsp13 |&nbsp14 |&nbsp15 |&nbsp16 |&nbsp17
---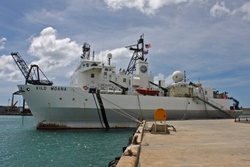 Good morning! My name is Lisa Kohne and I'm on board the R/V Kilo Moana (R/V means Research Vessel) for a 17 day scientific research cruise off the coast of Hawaii. Every day I will post a daily report, photos, stories, and videos from our expedition. I will also have an ongoing blog so students, teachers, and curious readers can write to anyone on board the ship and ask questions or make comments. We look forward to your involvement in our expedition!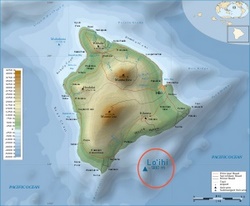 The Kilo Moana is docked in Honolulu Harbor on the island of Oahu, Hawaii. The sun has risen over the horizon and is breaking through the morning clouds. Shortly after 8 am the captain calls over the loudspeaker "All ashore that's going ashore". A crane operator lifts the gangplank away from the pier and stores it on deck. Lines are cast off and the Kilo Moana backs away from the pier into the channel. The Kilo Moana makes its way out of Honolulu Harbor past fuel barges, Coast Guard buoys and giant container ships. The channel seems incredibly narrow, and as the Kilo Moana moves into deep water we begin to feel the Pacific swell. The ship turns southeast toward the southern tip of the big island of Hawaii about 150 miles away.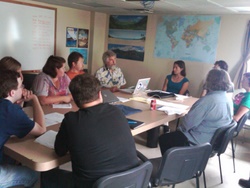 A crew of 15 scientists from around the world will study bacteria and microbial action on Lo'ihi Seamount off the coast of the big island of Hawaii. Lo'ihi Seamount is Hawaii's newest forming volcano. Its base is 15,000 feet down on the ocean floor and its peak is still 3,000 feet under the ocean surface. The scientists will send a ROV (Remotely Operated Vehicle) called Jason to the bottom of the ocean to take rock and mud samples, temperature readings, as well as many pictures of the young volcano.
When the Kilo Moana arrives at the Lo'ihi Seamount the waves are rolling and the wind was blowing. Jason cannot be launched. Plans are quickly redrawn to move the boat to the calmer, east side of the island.
Lisa Kohne
onboard the
R/V Kilo Moana
01 October, 2009
---
---