---
Daily Reports 1 |&nbsp2 |&nbsp3 |&nbsp4 |&nbsp5 |&nbsp6 |&nbsp7 |&nbsp8 |&nbsp9 |&nbsp10 |&nbsp11 |&nbsp12 |&nbsp13 |&nbsp14 |&nbsp15 |&nbsp16 |&nbsp17
---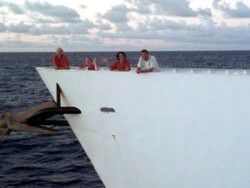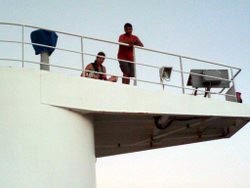 Accomplishments abound! We have been out to sea for 18 days – a total of 408 hours. Jason went on eleven dives for a total of 174 hours – which means 174 hours of monitor time for the Jason pilots, crew, and scientists. In addition, our scientists spent 37 hours monitoring CTD hydrocasts, and 28 hours surveying the seafloor surveys and setting the transponders. Eleven video galleries have been created as compilations of the highlights of the Jason dives. Hundreds of photos of the Lo'ihi crater, FeMO deep, and the Hawaiian Islands seafloor have been taken. The scientists will return to their labs with a wealth of samples. The true accomplishments of the expedition will become a reality as samples are analyzed, new discoveries are made, and results are published in journals, and conference presentations. I look forward to hearing about all of the future successes of our FeMO scientists.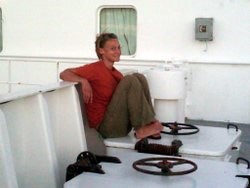 Parting truly is sweet sorrow. It has been a fantastic cruse and a beautiful journey. I am eternally grateful to have had the opportunity to be part of this expedition, and to have had the good fortune to meet such brilliant scientists and watch them conduct cutting edge research.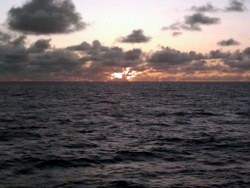 The scientists and the Jason crew patiently answered all of my very basic questions and shared with me small pieces of their research and their lives.
The captain and the crew of the Kilo Moana are a group of truly exceptional people -- Always kind, courteous, patient and friendly – with a passion for life and exploring. Watching them enjoy their careers and their lifestyles has renewed my own passion for travel and for living on the ocean.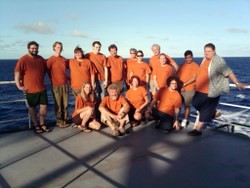 This has truly been an unforgettable experience with memories that I will cherish the rest of my life. We stand on deck and, for the last time, watch the sun fall into the Pacific Ocean.
Lisa Kohne
onboard the
R/V Kilo Moana
17 October, 2009
---
---